TRADING AND ACTIVE INVESTING MADE EASY
Trade with a broker who wins awards time and again, whose clients are enthusiastic, who is not a market maker and who is known for his legendary service. Broker comparisons repeatedly praise the order execution (70% of CFD orders are executed at a price better than the limit), the exceptional trading platform, and the free trading strategies. Chat | Call me | Platform demo
"If you are not happy at WH SelfInvest, you will not be happy anywhere else."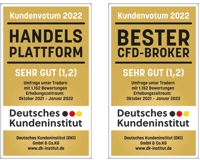 The "Best CFD-Forex Broker" and the "Best Trading Platform".
Deutsche Kundeninstitut (DKI)
"The winner is again WH SelfInvest. For the sixth year in a row. Respect!"
Profit from AI – 9/2023
You too can profit from the artificial intelligence revolution. The new AI Stock-Box is now available over at Freestoxx. This new stock portfolio uses the same method as our Nasdaq Stock-Box. The Nasdaq Stock-Box returned more than 200% since 2016.